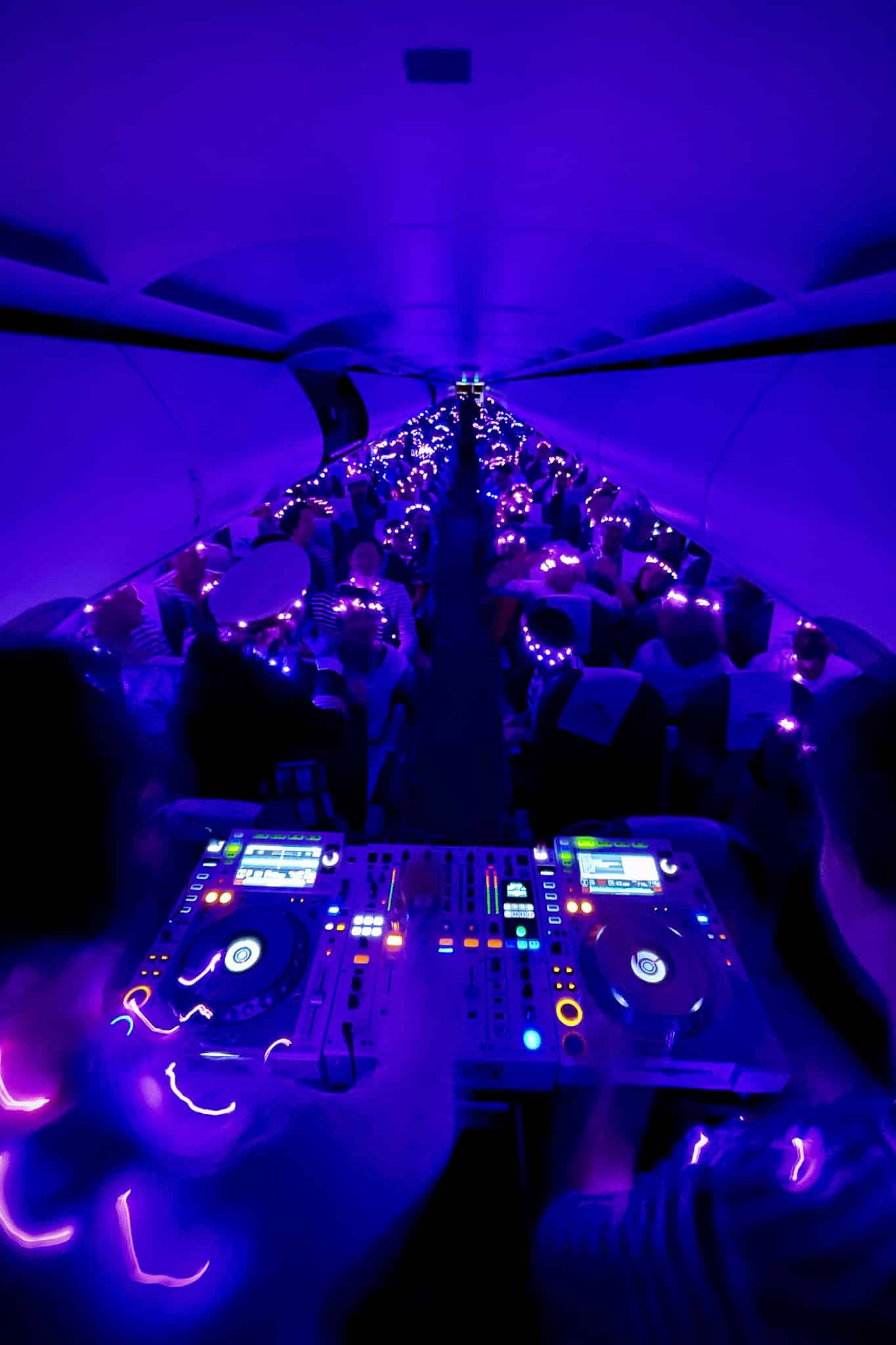 The Rise of the Tribe : Dream wedding in Malta
DREAM WEDDING IN MALTA
For the wedding of its founder Foulques Jubert, the WATO agency designed and produced 2 days of parties for 200 guests on the island of Malta. An exceptional wedding organized in only 10 months : The Rise of the Tribe
Step 1 : Air Force Wedding : A plane party in the sky
This project involved :
Chartering of a plane especially for the occasion with customization of the headrests
Dresscode: sailor suit
Parody of the safety instructions by a costumed actor
Installation of a sound system adapted to the constraints of a plane in flight
2 hours DJ Set by DJ Charles B & Enguerran DLC!
Parody of the video clip Toxic by Sylvano Jo, a transformist artist dressed up as Britney Spears
Step 2: Boat-Party in Valletta Bay
This project involved :
Sailing with 2 gorgeous old boats in the bay of Valletta
Pangea flags flying in the wind on the shrouds of the two boats
Dress code sailor stripes for all
Floating dancefloor on each boat
Cocktail lunch and open bar on board
Countless swims in the delicious Maltese waters
Stage 3 : Wedding in the colors of Persia
This project involved :
A path of fire that leads to the most mysterious wedding ceremonies
A full white dress code for all the guests
The Esfand ritual : a way to keep the loved ones away from evil eye
A traditional altar named "Sofreh Aghd" made of poetry, fruits, traditional Iranian artefacts
Traditional music played by 3 Iranian musicians, lit by torches
Persian rituals: a veil stretched over the bride and groom on which close women to the couple are invited to grind sugar loaves in order to make the union the sweetest.
Step 4 : Pool-Party under the stars
This project involved :
Iranian dinner, served around the hotel pool
Giant pool party, with a pool surrounded by flames
An artificial fog
Beams of light and lively beats
Step 5: Secular ceremony in an open-air cathedral
This project involved :
Dresscode "evening dress and tribal headdress"
Bus tour of the 30's
Discovery of a real open-air cathedral: Upper Barrakka Gardens
Final rite of ribbon tying as a symbol of love
Step 6: Scottish parade and 8 cannon shots for an imperial wedding
After a final parade of the Scottish Guard, the Maltese artillerymen will fire 8 cannon shots one by one in front of the enthusiastic guests.
This project involved :
Champagne for all
Splendid sunset on the bay of Valletta
Speeches, songs and surprises
An exceptional dinner
A magnificent fireworks display
Step 7 : Transformation of the old fish market into a giant dancefloor
End of this extraordinary stay in an old fish market Pixkerija, transformed for the occasion into a giant dancefloor, where the guests could dance until the end of the night, in the middle of the rain of multicolored confetti and cold sparks.
After an imperial wedding in Malta when will the next adventure take place?
AND IF WE TALK A LITTLE ABOUT OUR PROJECT?