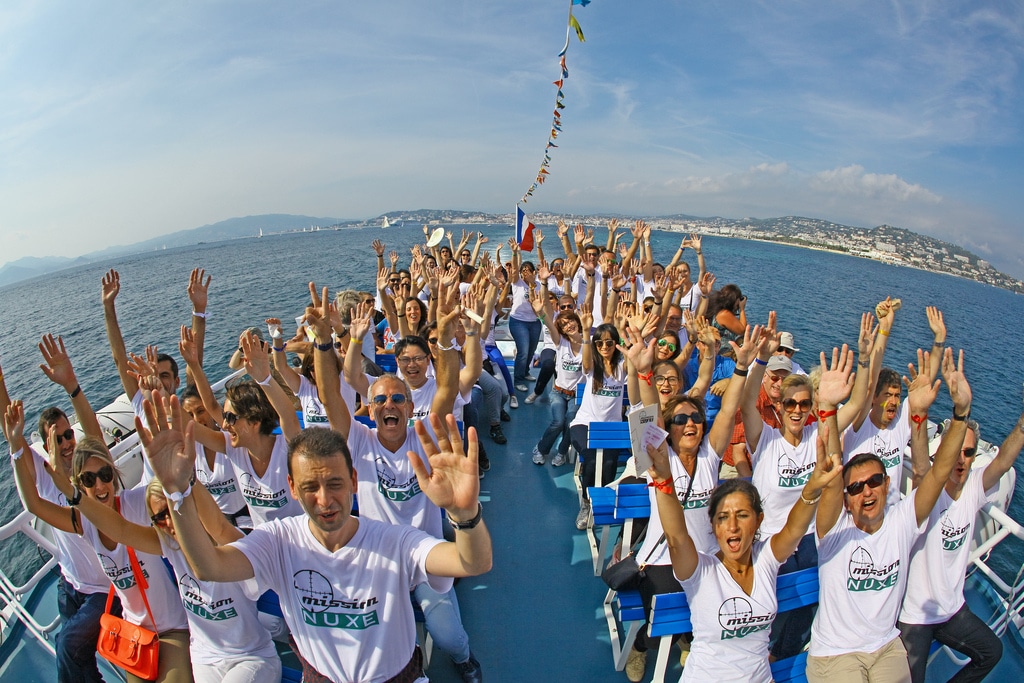 Mission Nuxe : A James Bond theme seminar in Cannes
On the occasion of Sales Kick Off, Nuxe cosmetics company relied on WATO to organize a James Bond theme immersive seminar in Cannes in September 2013.
Becoming spies for one day, the Nuxe team experienced a true adventure in some of the most powerful decors of Cannes.
The event featured :
Fake kick off meeting in a luxurious hotel of Cannes by the sea.
Speech of an actor playing the bright new professor hired to "make a revolution" in the Nuxe products formulas.
Theatrical happening with the abduction of the professor in the middle of his speech by 3 gangsters with hoods.
Video message from the Evil Caudalo Professor, detailing the ransom to free the professor before dusk.
Crossing the bay of Cannes by boat towards a gorgeous island near by.
Treasure hunt with sport activities and enigmas in a 19th century fort.
Glamorous party in the bad guys safe house : a spectacular villa in the heights of Cannes with a pool and a great view.
Champagne, fancy cocktail and casino animations in a James Bond style atmosphere.
Theatrical execution of the evil Professor Caudalo, mastermind of the kidnapping.
Burning dance floor until dawn and even a dive of the boss in the beautiful pool of the villa.
Discover other immersive seminar organized by WATO :
Glamorous Escape in Venice, Spy adventure in Marrakech or A pink fairy tale for Top US influcencers in Lyon.
AND IF WE TALK A LITTLE ABOUT OUR PROJECT?